VSLM College of Education - Management Message
Management Message:
Mr. Hemraj Sharma
Chairman

Mr. Chander Mohan
Secretary

Welcome to VSLM College of Education. Our college is a platform where the students prepare themselves to face the world and VSLM College has striven to mould the personalities of the students in such a way that they can face the perplexing, complex situations and challenges of life with confidence. The college has been envisioned to develop into a strong centre for providing total quality in teacher education. We are committed to contribute to future of the nation by creating seamless education opportunities.

Knowledge is the key to development of any nation. Knowledge takes us from darkness to light. It is said that the destiny of India is being shaped in its classroom and our college stresses over quality education. VSLM College of education facilitates the maximum development of teacher trainee's unique potential and realization of the purpose of its existence. I feel students should constantly be led by the driving face of creativity and talent. In this way education is also interiorized in each and every trainee and values embedded bring forth fruit. Our college brings out the talent of teacher trainees and contributes to the development of each and everyone.
Jai Chandi Maa
Principal's Message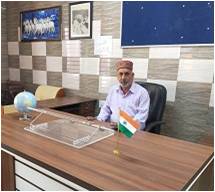 VSLM aims to educate students and transform them into teachers for the future. we believe after completion they contribute to make a difference to their place of work and society.
We provide a high performance work environment by emphasizing and sporting a climate of quality team work. It is our goal to be recognized as a premier institute of learning under the able guidance of department of education, HP university.
VSLM endeavors to remain at the crest of change an continue to contribute in the field of education. The future holds tremendous promise for the institute.

I wish you all a bright, disciplined and successful career ahead

Dr. Madan Lal Sharma
Principal Officiated