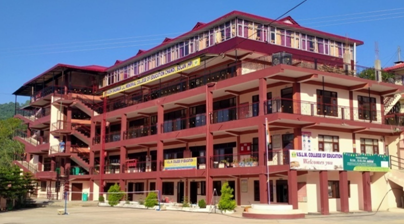 VSLM college of education is situated in Kuthar valley surrounded by the lush green and breezy hills of Shimla, Solan and Kasauli. It is 55 K.M. from Shimla 42 K.M. from Nalagarh and 30 K.M from Dharampur.
VSLM college is managed by DEVBHHOMI DEVELOPMENT SOCIETY, CHANDI. The Objective of DEVBHHOMI DEVELOPMENT SOCIETY, CHANDI is to establish and run educational Institutions for the promotion of education, particular in the villages of the State. To fulfill its aims and objectives, land on long term lease i.e., 30 years were taken to run only VSLM College of Education Chandi, in the Cherished memory of Late Vaidh Shankar Lal Sharma a Social Activists and Educationist.
The College is running three Courses i.e. B.Ed.& D.El.Ed The college aims at imparting lifelong learning and provides learner centric educational process.
VSLM College of Education is an educational Institution with a difference where the students are encouraged, rewarded and appreciated for their active involvement in maintaining discipline and organizing other activities required.
The college was established in 2006 and is managed by Devbhoomi Development Society through its management committee duly constituted as per the norms of Himachal Pradesh University. It is Co-educational College of education. The College has been granted NOC by the State Government of Himachal Pradesh and recognition by NCTE (National Council for Teacher Education).
The College is affiliated with Himachal Pradesh University Shimla for B.Ed. course vide their letter no. 1-304/2006-HPU (Acad.) dated 23rd August 2006 and for M.Ed. course vide their letter No. 1-304/2006-HPU (Acad.) dated 25 September, 2008. The College is also affiliated with Himachal Pradesh Board of School Education Dharamshala for J.B.T./D.El.Ed course vide letter no. HB/Affiliation/43/2008-20566-565 dated 19th September 2008.
The College is permitted to admit 100 students for B.Ed. course (Medical/Non-Medical/Arts/ Commerce), 35 students for M.Ed. course and 50 students for J.B.T. /D.El.Ed course. The College has two multi-storey buildings with all necessary infra-structure and instructional facilities as per the norms of Government of Himachal Pradesh/NCTE/H.P. University and H.P. Board of School Education Dharamshala to run the curricular and co-curricular activities, greenish and beautiful campus having its own playgrounds.
The College has well-equipped Library with a large number of standard books, including text books, reference books, standard dictionaries, encyclopedias, educational surveys and books of general interest. It has a spacious reading room. The College subscribes to several important academic journals, magazines and news papers. The Department of Physical education is well-equipped with most of the indoor and outdoor sports/games for both men and women. The college has a Hostel accommodation within the college campus separately for boys and girls with all necessary facilities. The college publish a magazine named " Madhu Smriti" every year. The different clubs and committees of the college helps in making the complete governance transparent.